The Truth About Compostable Coffee Bags - By Sprudge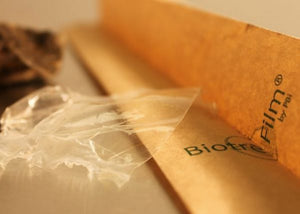 As of May 2019, we at Vermont Artisan Coffee are changing out our retail coffee bags to the more environmentally friendly Biotré 2 bag. It is made from 100% renewable materials and is 60% compostable. Please read the article by Sprudge below re: the compostability of coffee bags in general.....
Can you compost your coffee bag?
As someone with a coffee-drinking habit, leftover bags regularly pile up in my kitchen. I was thinking about this when a bag of beans from Ashland, Oregon's Noble Coffee Roasting showed up, thanks to my MistoBox subscription. I noticed a small label at the bottom: "This bag is biodegradable and compostable. Please remove tin tie and valve before composting."
Could I really compost this bag? What would happen if I put it in the garbage instead? I soon found myself navigating a topic that is not always as simple as it may seem.
Shifting to more sustainable packaging
For coffee companies committed to sustainability, packaging is a crucial component to their business, and many have started to move away from traditional foil-lined bags. The impact can be significant. Every week, micro-roaster Noble goes through an average of about 500 12-ounce packages and 250 five-pound packages. "When you extrapolate that out over a year or more, that's a lot of material. And we're just one small company," says Jared Rennie, founder and CEO of Noble Coffee. "If more of us little companies—and some big companies—were to make this sort of move, it would really have an effect."
There are a variety of options for compostable bags. Some of you may have already seen Omnidegradable packaging from TekPak Solutions (used by companies like Wrecking Ball Coffee) and Biotrē from Pacific Bag, Inc. The latter is the bag I first came across from Noble Coffee Roasting, and it's used by many other notable roasters like Counter Culture, Spyhouse Coffee, Water Avenue Coffee, and Huckleberry. What sets these two particular bags apart from other compostable and biodegradable options (like a pure paper bag, for example) is that they come with the barrier needed to protect the coffee. The outer part of this bag is paper-based and the inner liner is a plastic with an additive which allows it to break down over time.
But does that make a 100-percent compostable bag? Not really. First, the tin tie and valve need to be removed, destined for the trash. Second, it's important to note that "biodegradable" and "compostable" should not be used interchangeably. "Biodegradable" refers to any material that breaks down (or has an additive that will help it break down) and decomposes in the environment; "compostable" means that the material is organic matter that will break down and produce soil.
The Biotrē bag in particular is 60 percent (by weight) biodegradable, made from wood pulp. This part is compostable. The remaining 40 percent of the bag is a polyethylene liner with an additive allowing the liner to break down over five to 10 years—much faster than a conventional fossil-fuel-based liner but still hanging around in your compost or garbage pile for quite some time.
Navigating all of this as a consumer can be tricky. According to the Federal Trade Commission "it is deceptive to make an unqualified degradable claim for items entering the solid waste stream if the items do not completely decompose within one year after customary disposal."
"If a product is certified as compostable, the whole thing is compostable," says Brenda Platt, co-director of the Institute for Local Self-Reliance. "There's no such thing as 80-percent compostable and 20-percent not. Either you're compostable or not." Platt recommends that people refer to products certified by the Biodegradable Products Institute, a third-party organization that certifies entire products that meet the US Standard ASTM D6400 or D6868, sets of guidelines that lay out the requirements for products to be able to be composted in municipal and industrial facilities.
The paper part of the Biotrē bag has been tested against these standards and will break down into compost in around 84 days. But the other 40 percent still needs to be disposed of, as detailed in this video. If you compost the bag at home, "as you are raking, you take it out and dispose of it separately," says Bill Walters, Vice-President of Technical at Pacific Bag. If you are not composting at home and the bag heads to a landfill instead, "you will get the same breakdown as a newspaper," says Walters.
A fine balance
Choosing packaging is a "constant balance between quality and sustainability," says Rennie. Selling specialty coffee means ensuring the quality of the product; the bags need to do things like let the coffee off-gas without letting oxygen into the bag (the valve's job), and keep the coffee fresh (the liner's job). "When I compare in my mind the two options," says Rennie—weighing a traditional bag versus one that is partly biodegradable/compostable—"it's not ideal but it's pushing in the right direction."
Other roasters agree. "We value both coffee quality and sustainability, which means we looked for bags that would preserve the freshness of our coffee, but have a more sustainable disposal option than traditional foil-lined bags," says Meredith Taylor, Counter Culture's sustainability manager. Counter Culture is launching a packaging audit to assess what's on the market and what changes can be made to ensure the most sustainable packaging. "If there's a company out there that creates a relatively high barrier, a completely compostable bag," says Rennie, "I would love it."
What's next?
What happens after we are finished with a coffee bag is not the only important part. "We know that most of the environmental impact for packaging occurs in the production part of the lifecycle. This is where material types, whether the source materials are recycled or virgin, and how much and what type of energy is used to produce the packaging can make bigger environmental differences," says Bruce Walker of the City of Portland's Bureau of Planning & Sustainability.
Pacific Bag's Walters understands this importance. "Ideally you want 100-percent renewable materials and 100-percent compostable," says Walters. With that in mind, the company is currently working on a new version of the Biotrē bag, made with 100-percent renewable materials, including the valve.
"The industry has really stepped up to meet the demand for these products," says Platt. "Even if these products don't exist yet, they will if the demand is there." Consumers and roasters alike can continue to show that demand. "We're trying to push the industry forward…we're trying to show that there's a demand for this, and say, 'Hey, please keep doing the research to make it better,' " says Rennie. "Our hope is that there will be more R&D going into it and that there will be a solution we can all be proud of."
Anna Brones (@annabrones) is a Sprudge.com staff writer based in the American Pacific Northwest. Read more Anna Brones on Sprudge.